LocalAdvocate
LocalAdvocate is an application that will empower you to fight cruelty in the community where you live. It will show you where animal cruelty is occurring and provide simple, effective steps you can take to stop it.
The app will also enable you to report incidents
of animal cruelty, whether those incidents are emergencies or the more normalized forms of cruelty (such as pet stores that sell puppies bred
in puppy mills).
Any cruelty that you report will be available in real-time, marked on the map using geolocation, and visible to all users. It's the beginning of the end of animal cruelty.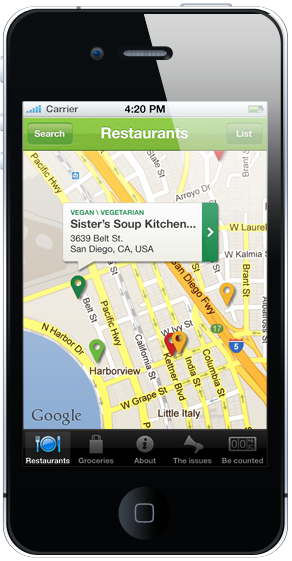 Humane Eating Project
The Humane Eating Project is a crowdsourced Humane restaurant locater application which drives interest in humane eating with consumers and producers alike. Humane foods include Vegan, Vegetarian and Humanely Raised meats.
At its simplest level, the Humane Eating Project is
a restaurant locater — helping people simply find the nearest restaurants serving Humane options.
At a deeper level, it leverages the power of the crowd, social media, and loyalty programs to drive a dramatic change away from factory farmed animal products to vegetable or humanely raised foods.
The Humane Eating Project gives consumers a way to vote more directly with their dollar and a conduit to take action — by promoting restaurants doing the right thing, and taking steps to change those that are not.
America for Animals also helps its neighbors by funding spay/neuter clinics in Tijuana, Mexico. Click here to learn more.